ABOUT WOMEN IN DENIM
2021 CONFERENCE CANCELLED DUE TO COVID-19 CONCERNS
Hello all - We hope this finds you safe and well. After a lot of thought, we decided it is in the best interest of those involved with the conference, to cancel for 2021. With the uncertainty of COVID-19, we do not want to put anyone at risk.

We hope you all understand, as each conference takes a lot of planning. We will regroup next year. Take care, and stay safe!
The first Women in Denim conference was held in January of 2004 after a yearlong planning process. 2015 began the second decade of this volunteer-led effort for women involved in ALL facets of agriculture. Whether you actively farm, work in agribusiness, or just eat three times a day - you are welcome to the conference.
The goal of Women in Denim is to support women in agriculture and those who enjoy the rural way of life. Women involved in agriculture will find workshops to sharpen their skills in decision making, leadership, finances, and knowledge of agriculture. There are workshops that also support and acknowledge the importance of family, community, leisure time, quality of life and overall wellness. The conference features 20 workshops. The motto of the conference is "Celebrating Women of Rural America" and the sessions offered reflect the many interests of such women.
The Women in Denim conference is largely supported by contributions from businesses that understand and acknowledge the important role women play in agriculture. It is through these generous sponsors that we are able to keep the cost of the conference low. New sponsors are always welcome.
The conference schedule begins on Friday afternoon with various pre-events including a mini health fair and attendees have the opportunity to shop from selected vendors during the pre-event. A dynamic keynote speaker, Holly Hoffman, is followed by dinner in the Grand Ballroom. Dessert and socializing will finish off the evening.
Saturday will start at 7:45 am this year with workshops followed by one large group session in the afternoon. The sessions again cover a broad range of topics relating to women and the many hats they wear in their lives. Lunch and more networking opportunities make Saturday a fun filled day!
Women in Denim Committee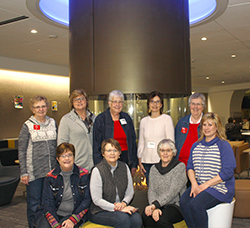 • Barb Campbell Determan, Farm Partner/Heartland Marketing Group
• Susan Diersen, Farm Partner
• Deb Hinkeldey, Farm Partner/BVRMC
• Beulah Imming, Farm Partner/Retired Nurse
• Janel Kaufman, Farm Partner/BVRMC
• Joy Madson, Ag Partners, LLC
• Jan Mason, Farm Partner/Retired Nurse
• Gretchen Miller, Iowa Central Community College
• Diane Radke, Farm Partner/Ag Partners, LLC
Associate Members
• Elissa Barrick, Ag Partners, LLC
• Kara Napierala, Committee Partner
• Beth Wischmeyer, Ag Partners, LLC
Testimonials About Women in Denim
"Always fun! Speakers and food are awesome."
"This was fantastic - great experience!"
"Awesome sessions, awesome ideas, awesome presenters, awesome women!"
"There were a lot of great sessions to choose from. It was a fabulously run conference. Keep up the good work!"
"Loved every part of this conference - food was fabulous, great presenters, and great facilities."
SITE QUICKLINKS
→ Vendor Registration
---
→ 2020 Featured Speaker
---
→ Our Sponsors