WOMEN IN DENIM AWARDS
The Women in Denim Inspiration Award
The Women in Denim Inspiration Award recognizes the contributions of an individual woman to her family, her community, and the world of agriculture. Past winners have been women who farmed locally for many years to nationally-recognized heroines.
The recipient of this award is a woman who is an inspiration to others through her dedication to family, community, and the rural way of life. This is a woman who loves what she does and it shows to those around her. This nominee can be a woman who works quietly in agriculture or speaks to a national audience.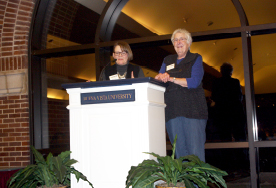 WID INSPIRATION AWARD WINNER: Beulah Imming
Beulah knows what hard work is. Working with her husband, Art, of 59 years she has been a dedicated partner on the farm. Beulah's farm experience ranges from running the corn picker, hauling grain, and being an active part of the harvest season. No matter what Beulah had going on, she always had a meal ready for her family. Her part on the farm was not her only job. She was a nurse for 40 years at Buena Vista Regional Medical Center. Beulah's work ethic is an inspiration to all that know her. She is a volunteer for many organizations and even helped found the Buena Vista Regional Medical Center Scholarship committee, and has served on the Women in Denim committee since the very start. Beulah has been an inspiration to her family through not only agriculture and nursing, but also her overall attitude, and her children say that they never heard her complain about anything.
SITE QUICKLINKS
→ Vendor Registration
---
→ 2018 Featured Speaker
---
→ Our Sponsors