WOMEN IN DENIM AWARDS
The Women in Denim Inspiration Award
The Women in Denim Inspiration Award recognizes the contributions of an individual woman to her family, her community, and the world of agriculture. Past winners have been women who farmed locally for many years to nationally-recognized heroines.
The recipient of this award is a woman who is an inspiration to others through her dedication to family, community, and the rural way of life. This is a woman who loves what she does and it shows to those around her. This nominee can be a woman who works quietly in agriculture or speaks to a national audience.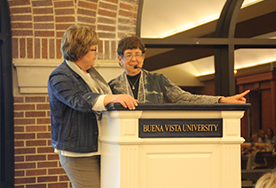 WID INSPIRATION AWARD WINNER: Jan Block
Jan Block is an inspiration because of her positive attitude, her willingness to help others, her community involvement, and her love of farm life. She was raised on a farm near Ware, Iowa in Pocahontas County to her parents Merle and Marjorie Leith and was later joined by her younger sister Beverly. Jan was active on the farm at a young age because she had no brothers. Along with her teaching career, Jan has also been very active in the farming operation for the past 60 years. From working in the field (which included long summer days of cultivating on a John Deere "4020" tractor with no cab, walking and riding beans, picking up rocks, running the grain cart, and doing fall tillage), delivering grain to the elevator in the old straight truck, cooking and delivering meals, running for parts, giving rides between farms, and all of the other aspects that go along with being an active farm wife.
Jan cared deeply for her husband, Rich. He passed away January 2013 and Jan's enduring love and support during that time was a blessing to have. Jan still stays active in her church and community. She is currently the Calhoun County Farm Bureau "Ag in the Classroom" coordinator and teacher, where she has been for the past twelve years.
The Spirit of Women in Denim Award
The Spirit of Women in Denim Award recognizes a company, organization, or individual that supports and acknowledges the contributions women make to rural life. A business or organization that supports women through educational opportunities, sponsorships, or provides a commitment to women who live and work in agriculture would describe the recipient of this award.
Spirit of WID Award Winner: Iowa Central Community College
SITE QUICKLINKS
→ Vendor Registration
---
→ 2017 Featured Speaker
---
→ Our Sponsors